Miguel Ángel Fernández and José Yáñez, Head of the Technical Department and BRANDT Product Manager, respectively, talked to a group of farmers from the Virgen del Rocío Cooperative, at the Monte Algaida Agricultural Colony (Sanlúcar de Barrameda).
During their presentation, the BRANDT Europe representatives first discussed new trials conducted with Manni-Plex Calcium, our foliar supplement that provides highly mobile calcium, available at the growing points, an excellent tool to prevent and correct calcium deficiencies and improve overall plant health. Applying MANNI-PLEX Ca during the growing season helps ensure optimal calcium levels as the patented formula coats the leaves and adheres to their surface, making it more readily available to the plant. It can also be tank mixed with most fungicides, insecticides and PGRs.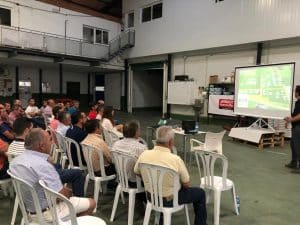 Then, as we are now at the height of the pepper and tomato planting season, the speakers went on to present our Plant Start system, a biostimulant based on extracts of two different varieties of seaweeds that optimise plant transplanting, an article on which has been published in the newspaper "ABC".
Finally, attendees had the chance to share their impressions and opinions with our two colleagues during a short aperitif held at the Cooperative.