On Wednesday February 24th, from 5 pm, BRANDT Europe will offer a webinar to analyse the latest advances in innovation and new technologies applied to the melon and watermelon sector. The online event, which will be held on the agricultural audiovisual content platform Agromunity.com, will feature 6 expert speakers, who will talk about the current situation in terms of innovation and new technologies for these two important products.
The application of artificial intelligence, Big Data, advanced analytics to predict the optimal harvest time of watermelons, nanoparticles for the elimination of nitrates in water and new technologies in plant nutrition are some of the topics that will be discussed by José Antonio Arcos (Director of Agro Auténtico), Manuel Valverde (CEO of Agrowindata), Yesica Vicente (Researcher at the Defence University Centre of the General Air Academy) and Juan Jesús Maldonado (Specialized Technician in Intensive Horticulture and Subtropical Crops at Brandt Europe).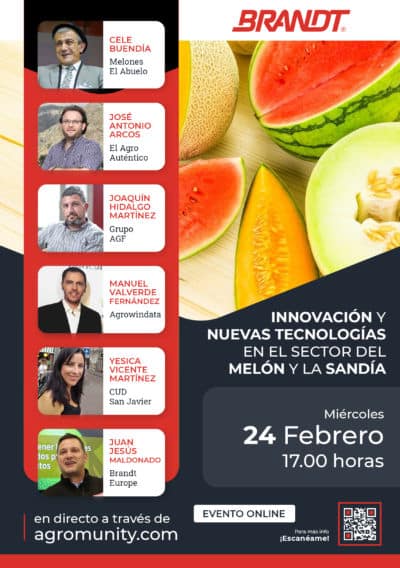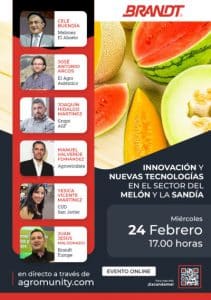 The event will also feature representatives from two leading companies in the sector. Joaquín Hidalgo (Managing Director of AGF Group), the head of Sandía Fashion, will talk about innovation as a tool for business growth, while Cele Buendía (Managing Director of Melones El Abuelo) will analyse the constant innovation of the company's melons.
The event will have a flexible and dynamic format, moderated by Alfonso Lucas (Agromunity), giving attendees the chance to ask the experts their queries or questions within an interactive setting.
Those interested in attending can now register for free at the following link:https://agromunity.com/innovacion-melon-y-sandia/.
Brandt Europe's catalogue of specialty products includes Manni-Plex technology, a micronutrient delivery system that is recognized by the crop as its own and that, in combination with the BRANDT InVigo biostimulant, increases the number of Jacobo Cantaloupe fruits by up to 20% in commercial sizes and by 5% in extra sizes, which are those that exceed one kilo.
Furthermore, after applying BRANDT InVigo to watermelon crops, the following benefits can be observed: a significant increase in the rate of fruit set, a reduction in abortions following fruit set of up to 16%, a 12% increase in the number fruits within commercial sizes, an increase of more than 10% in extra sizes, a reduction in non-commercial fruits to less than 5% compared to the untreated area and an increase of almost 20% in the average product weight.
BRANDT is known as one of the fastest growing family-owned companies in the United States. With a portfolio of over 250 products, BRANDT is the company of choice for tree crops, industrial crops, horticultural crops, turf and even ornamental plants. Its products are sold in over 45 countries, and it has more than 135 hectares of farms dedicated specifically to research and development.
At present, one of BRANDT's strategic priorities is to serve its customers through international expansion. In 2015, BRANDT purchased Target Brasil Fertilizantes Ltda. in Brazil, providing the company with its first overseas factory and a national sales force in Brazil. Then, in July 2016, it secured its most important international acquisition: the purchase of the assets of Tragusa, which has provided Brandt with manufacturing capacity in Europe and access to new markets and products.
BRANDT Europe's activity is focused mainly in Europe, the Middle East and Africa with a wide range of agrochemicals for crop protection, plant nutrition and pest control.