BRANDT is one of the fastest-growing family-owned businesses in the United States, and our philosophy is governed by values committed to agriculture, people, and quality products.
Our beginnings date back to 1953, when Glen Brandt and his sister Evelyn Brandt Thomas founded the company in Pleasant Plains, Illinois. From the beginning, the aim was to bet on innovation in the agriculture sector, transparency, and giving a personalized service to the client. Values that we continue to maintain today as we try to make farmers around the world profit from the production of their crops by applying BRANDT products, many of them with unique technologies in the market.
Although it is less known, BRANDT also has excellent recognition for participating in other sectors, such as the automotive sector. Do you want to know more about our beginnings and how we have such an active role in major international automotive competitions?
From Agriculture to Automotive Competitions
At BRANDT, we have also positioned ourselves as a company recognized for participating in motor racing competitions as sponsors. We have been involved in sponsoring motor racing events and championships to promote our brand values and establish strategic partnerships with prestigious teams and organizations in the motor world.
BRANDT and Its Sponsorship Actions in the World of Motorsport
Rick, the current CEO and Chairman of BRANDT, was barely aware of the NASCAR competition when he started sponsoring it, as in the beginning, the collaboration was launched as part of our marketing strategy.
Thus, a sponsorship request for a race car in Rick's email became a solid long-term collaboration that has profoundly transformed the company's values and principles.
But what is the true origin of this sponsorship? Founder Evelyn Brandt met pilot Justin Allgaier when, at 19 years old, he gave a speech dedicated to the club of women entrepreneurs of the team. On the other hand, Rick agreed with him a few years later, and what struck him the most was that he had grown up in Riverton (Illinois), very close to BRANDT headquarters: Pleasant Plains. At that time, Allgaier was already a reasonably prestigious driver with sponsors such as Penske and Verizon. Rick was thrilled to be able to sponsor someone so young that he was already well-known in motorsport. It was not until 2011 when finally Allgaier and BRANDTsigned a sponsorship agreement. A very expected event that the company very well received. During the first year of sponsorship, the driver had an excellent season, as he was third overall in the NASCAR Nationwide Series. That same year he also triumphed at Chicagoland Speedway. In addition to all those successes, Allgaier reached six finals in the top five. An unusual fact that elevated him to legend status.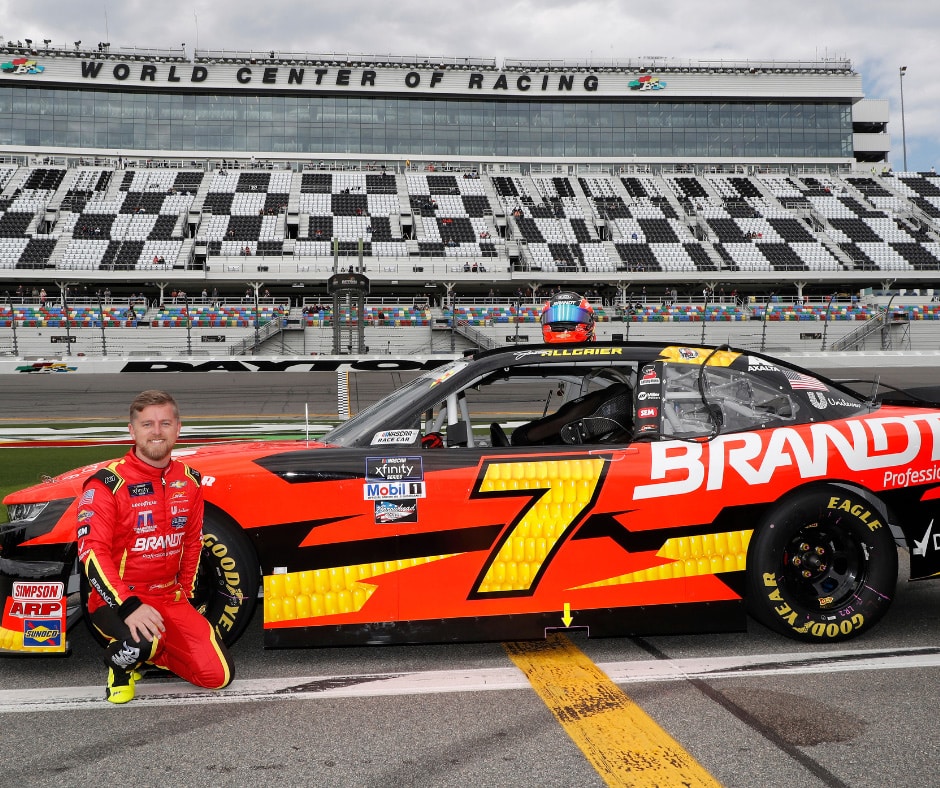 The collaboration with Allgaier and our participation in the automotive sector has positively contributed to our brand positioning. Above all, through these competitions we have made our values and philosophy known worldwide.
Interestingly, during these years, race guests have included local and international distributors, U.S. customers, suppliers, business partners, and employees from all departments.
But that was not all. From BRANDT, we decided to expand our sponsorships and land in Brazil. In 2015, we started supporting driver Miguel Paludo at the Porsche GT3 Cup Challenge. A very fruitful collaboration in one of our key markets, which we have maintained in the editions of 2016, 2017, and 2019, where he was also proclaimed champion.
In addition, Miguel Paludo has participated in some NASCAR and international races, such as the Porsche GT3 Cup during the 24 Hours of Le Mans.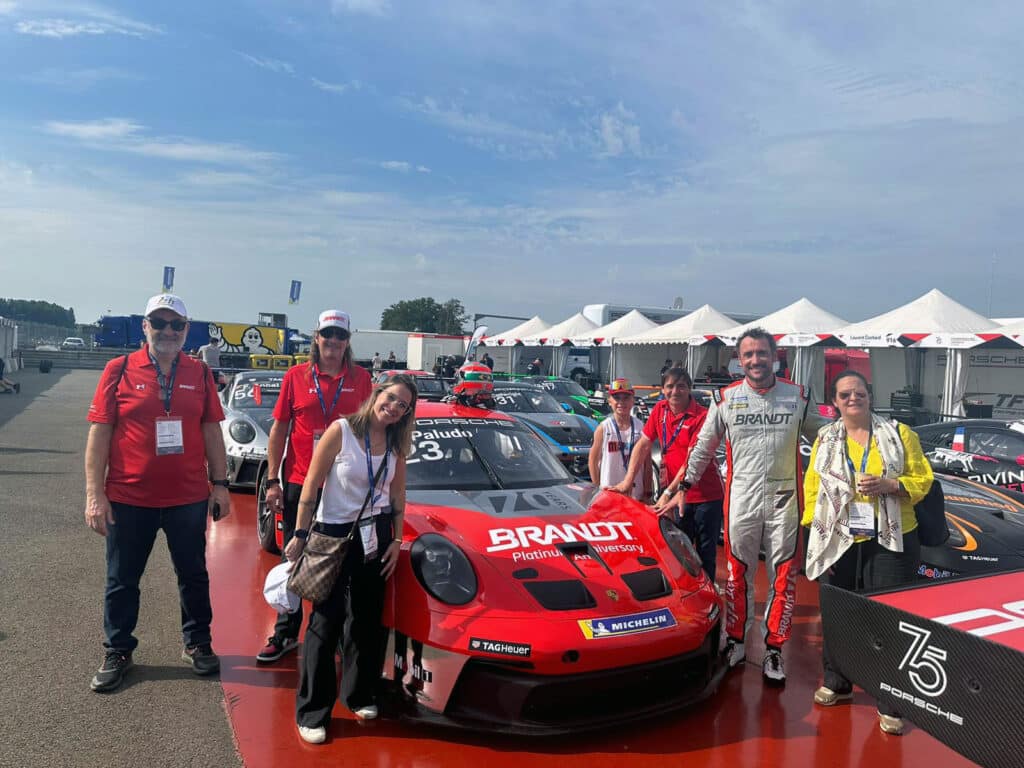 At BRANDT, we expect these to be just the first pages of a story of collaboration with high-performance cars. A platform from which to enjoy an exciting sport and through which we can continue to transmit our values as a company focused on innovation in the agricultural sector, transparency, and personalized customer service.
Celebration of BRANDT's 70th Anniversary in Seville: A Historic Milestone that Highlights our Long History in the Agricultural Sector
Seville was the backdrop of an unforgettable event that marked a milestone in BRANDT's history. Last June 12th, in Carmona, took place the celebration of one of our most significant milestones so far: our 70th anniversary. This special event brought together collaborators, prominent personalities, and friends to commemorate decades of success and highlight our constant innovation in the agricultural sector.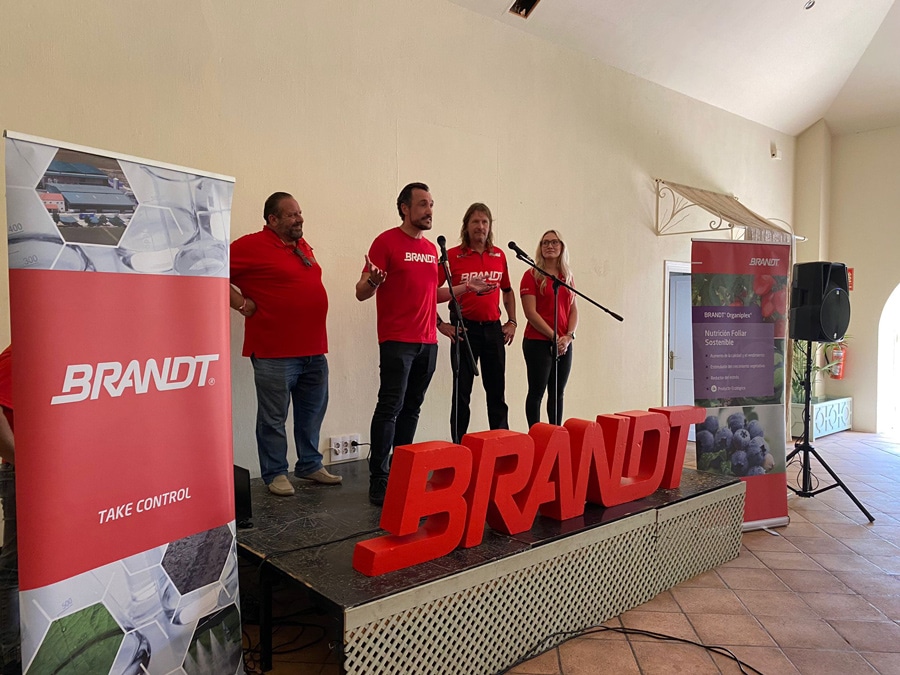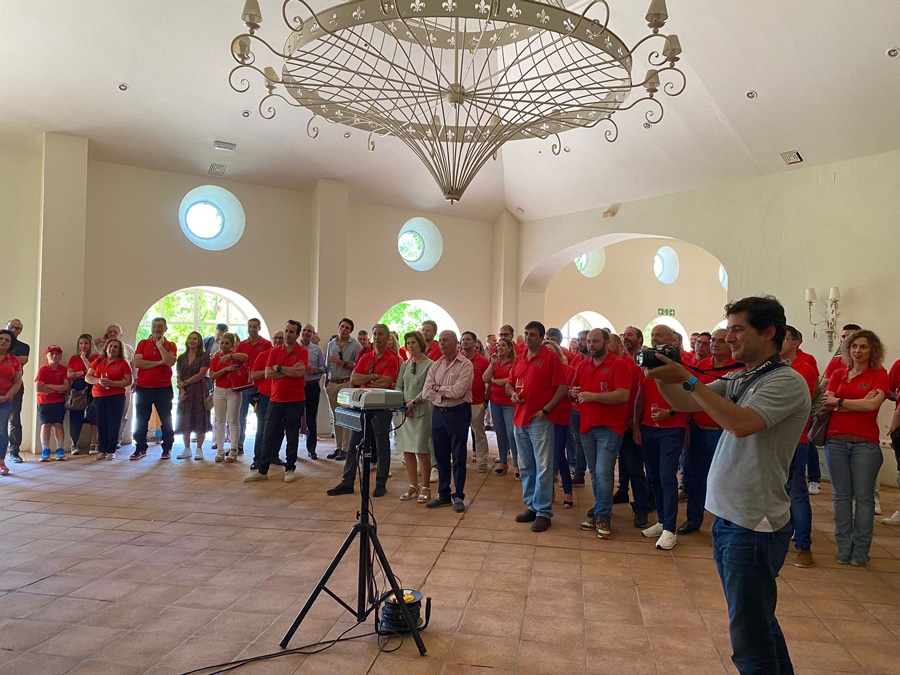 The event was full of exciting and memorable moments, from the arrival of the guests to emotionally charged toasts, as well as inspiring words shared by the most prominent members of the BRANDT family. We started with our President and CEO, Rick Brandt, who shared his vision for the future and expressed his gratitude to all those who have contributed to the growth of our brand over the past 70 years. Sierra-Shae Brandt, the future and third generation of BRANDT, shared a message of enthusiasm and commitment to the future of BRANDT, toasting for another 70 years of dedication and success.
The event also featured the talented driver from our Porsche team, Miguel Paludo, who shared his experiences working alongside our brand and the exciting challenges it has faced on the tracks. In addition, we were honored to have the presence of the mayor of Carmona, Juan Ávila Gutiérrez, who recognized and praised BRANDT's contribution to the economic and social development of the region.
We invite you to enjoy this video summarizing BRANDT's unforgettable 70th-anniversary celebration. Join us in celebrating decades of innovation in the agricultural sector and share the joy of this momentous milestone in our company.